5 Observations: Flyers Salvage a Point Thanks to Shorthanded Magic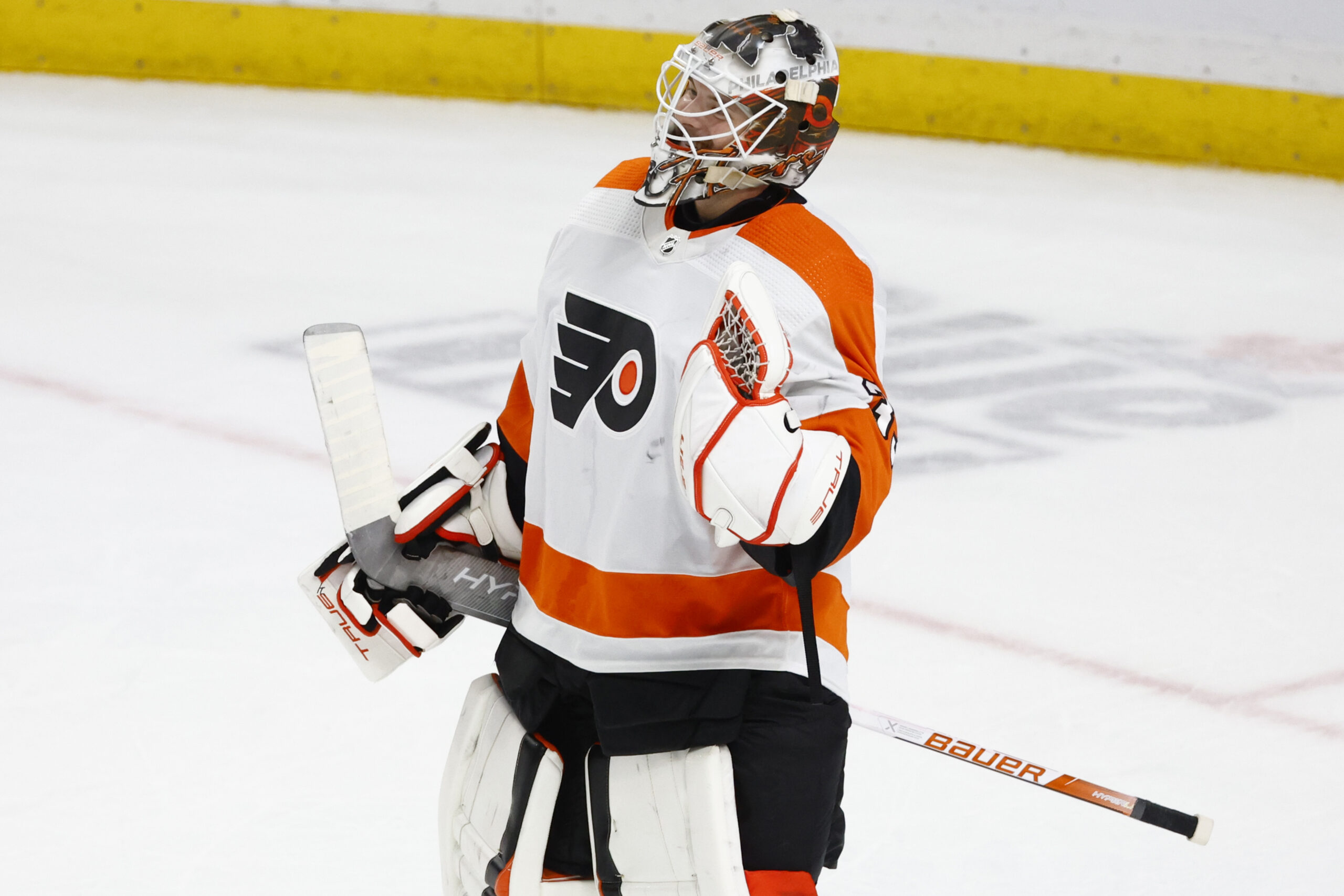 While many Delaware Valley sports fans tuned into the Phillies-Diamondbacks in the National League Championship Series on Saturday night, the Philadelphia Flyers were putting together a strong effort of their own.
Despite missing two veteran defensemen, they outplayed the host Dallas Stars for much of the game, and scored three shorthanded goals for the first time since 1996.
But it wasn't quite enough as they fell to Dallas, 5-4, on a backhand goal by ageless Joe Pavelski with 2:48 left in overtime.
Still, it was an impressive performance by the Flyers, who picked up a point for their efforts.
The Flyers are now 3-1-1, while Dallas improved to 3-0-1.
Here are five observations:
1. Travis Konecny created some shorthanded heroics.
Right winger Travis Konecny scored two shorthanded goals to pace the Flyers. He became the seventh player in franchise history with two shorthanded goals in a game — and the first since Simon Gagne in 2008.
Konecny now has a team-high five goals in five games.
His second shorty, with 8:02 remaining in regulation, got the Flyers within 4-3. Just 47 seconds later, defenseman Sean Walker scored the Flyers' third shorthanded goal of the night, knotting the score at 4-4. Walker has shorthanded goals in consecutive games.
Earlier, after some nice defensive work by Noah Cates (two assists), Konecny scored on a shorthanded breakaway to tie the score at 2-all with 3:24 to go in the first. Cates stole the puck in the defensive end and fed Konecny for the breakaway.
The Flyers had good jump in the opening period and outshot the hosts, 15-7. They finished with a 40-25 shots domination at American Airlines Arena
Not everyone is happy about that TK shorty…

But we are. 😏👀#PHIvsDAL | #LetsGoFlyers pic.twitter.com/CDnhQtGItm

— Philadelphia Flyers (@NHLFlyers) October 22, 2023
2. In his first appearance of the season, goaltender Sam Ersson looked rusty, but rebounded nicely.
Three of Dallas' first eight shots got past Ersson, including a long drive by Roope Hintz that gave Dallas a 3-2 lead 30 seconds into the second period.
To his credit, Ersson, who last played 19 days ago in an exhibition game, regrouped and played well in the third period and OT.
With 9:24 left in regulation, Jamie's Benn's second goal of the young season put Dallas ahead, 4-2, before the Flyers' stunning shorthanded rally.
Ersson (20 saves) robbed Hintz on a one-timer off a two-on-one in the overtime, making a glove save of his blast from the right circle. A short time later, the 39-year-old Pavelski ended it by scoring his third goal of the season.
Carter Hart (2.01 GAA, .929 SP), who played the first four games and was 3-1, got the night off. Felix Sandstrom was Ersson's backup.
Hart will likely play Tuesday night in Vegas against the defending champion Golden Knights.
SEAN WALKER TEXAS RANGER. #PHIvsDAL | #LetsGoFlyers pic.twitter.com/JpI9fyMkEd

— Philadelphia Flyers (@NHLFlyers) October 22, 2023
3. The Flyers used a young lineup, and they showed lots of energy.
Partly because of injuries and partly because they are in a rebuilding mode, the Flyers used 10 players 24 year old or young, including 21-year-olds Tyson Foerster and Emil Andrae; and 22-year-olds Bobby Brink and Cam York.
Brink made a deft backdoor pass to Joel Farabee, 23, who tapped in a goal-mouth goal to cut Dallas' lead to 2-1 with 9:48 left in the first. Farabee has three goals, all on taps-ins. All three of his scores were the Flyers' first goal of the game.
Andrae and fellow defenseman Egor Zamula, 23, will get an opportunity for more playing time with Rasmus Ristolainen still sidelined — he's listed as day to day — and Marc Staal injured. Coach John Tortorella said Staal will miss "weeks" with an upper-body injury suffered Thursday against Edmonton.
Staal, 36, was signed to be a mentor to the Flyers' many young defensemen.
4. Philly's power play looked better, but still is in a funk.
Late in the second period, the Flyers showed good puck movement on their first power play, but couldn't beat goalie Scott Wedgewood (36 saves), wh0 made a handful of quality saves, including a key stop on Owen Tippet. (Tippett had seven shots in the game.)
That left the Flyers 1 for 18 on the power play this season, with the only goal coming on a five-on-three situation.
5. The Flyers finally matched up well with Dallas.
They are 0-6-1 their last seven meetings with the Stars, and have been outscored by a 32-12 margin.
So getting a point — especially the way they did it — almost felt like a win.
The Philadelphia Flyers haven't beaten Dallas  since Jan. 10, 2019, when James van Riemsdyk and Konecny scored goals in a 2-1 win at the Wells Fargo Center. Hart  stopped 37 of 38 shots.